The Young Justice team is in a bit of a bind as they're forced to fight their way out of an ambush set by the mysterious villain, Phobia.
"Odyssey of Death!" is the 21st episode in Young Justice Season 4, and it's a really good one! It starts off with an action sequence that will leave you on the edge of your seat. And then there's this twist at the end that I won't spoil here.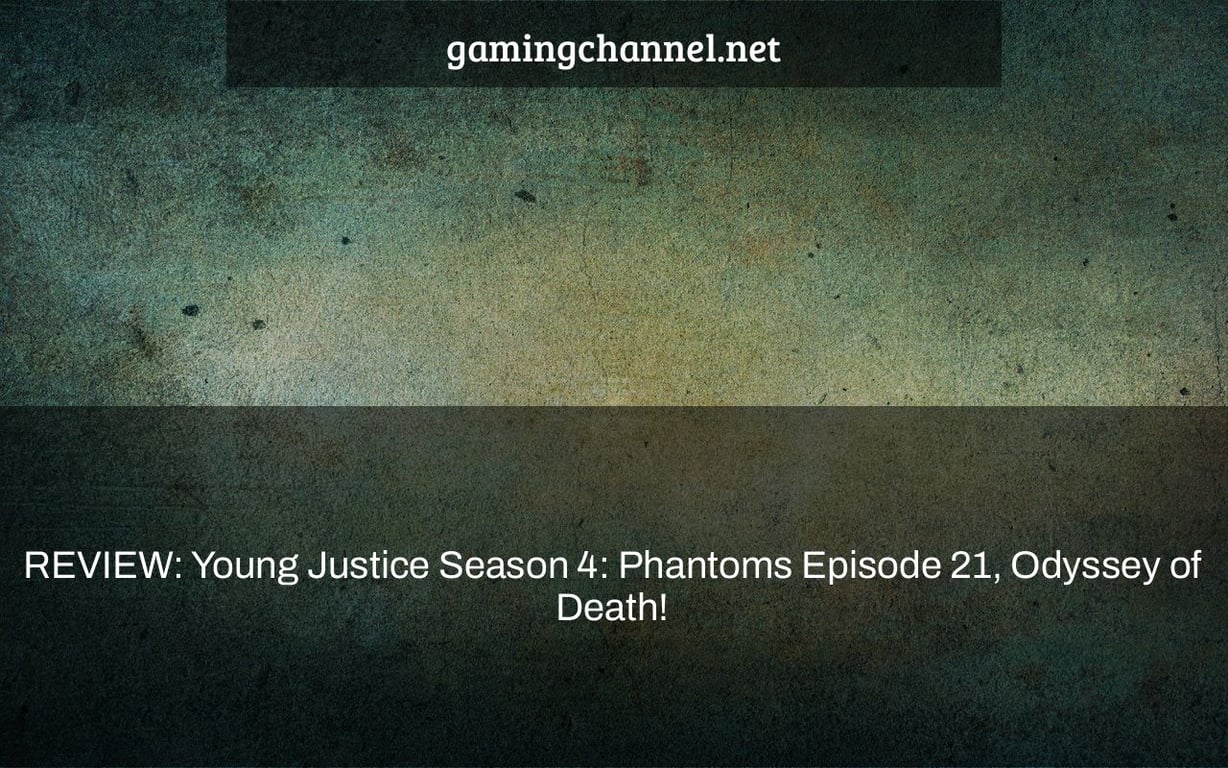 "Odyssey of Death!" is the 21st episode of Young Justice Season 4's Phantoms.
"What now, the phantom?"
Review of Television
**SPOILERS**
Madame Xanadu is in the marsh in "Odyssey of Death," attempting to contact a ghost for Zatanna but failing. Zatanna raises the same question of her father, who says he's still trying to persuade Nabu to collaborate. Meanwhile, Metron and the others arrive too late in New Genesis to apprehend Lor-Zod and his supporters. Lor discovers that the Phantom Zone projector has died and requires charging. They elude the heroes once again. Meanwhile, the female Forager offers to take the traditional Forager back to Earth, thereby addressing his predicament. Rocket, Orion, and the others are sent to two places where Metron thinks Lor would attempt to charge the Zone projector. When they discover him, M'comm uses his telepathic abilities on Rocket, feeding onto her suspicions about Orion. As Lor attempts to liberate his father, the heroes are sidetracked by Mantis and M'comm. As a distraction, Tomar-Re dies defending New Genesis from a firestorm manufactured by Lor. His ring is given to the female Forager, who is chosen as a Green Lantern by him. The Phantom Zone portal is closed, but Lor-Zod and M'comm escape with the Legion of Superheroes aboard the Bioship. The Foragers split ways, but agree to pursue a long-distance relationship in the future. In Salem, Zatanna, Nabu, Mera, and others assemble to communicate with Conner's ghost. When that fails, Zatanna comes to the conclusion that he is still alive. 
There are several remarkable moments in "Odyssey of Death!" that inspire excitement, drama, or tragedy. Orion's declaration that he's had to learn to face the obstacles of his condition, Tomar-honorable Re's sacrifice, and Zatanna's revelation are all highlights of the episode. The struggle of Orion has been an unexpected and enjoyable focal point of the arc, and Zatanna has been a true MVP this season. But something is wrong with "Odyssey of Death!" 
Young Justice is one of my current favorite television shows, and I've mostly loved Phantoms. It gives me no joy to criticize or complain about this program, but this last episode in Rocket's narrative arc has a few niggles for me. For starters, the tempo is just off. Every disclosure, combat, and story development in "Odyssey of Death!" is rushed. Tomar-death Re's is a dramatic moment that I didn't expect, so why is it so rapidly forgotten? Why are his friends' reactions only featured in a few of still images? I wish I could have seen and heard their anguish in action, particularly Kilowog's. I also believe we could have and should have spent more time getting to know Tomar-Re before everything occurred. We know he was a Green Lantern and that he was involved in the destruction of Krypton. This is sufficient to make "Odyssey of Death!" make sense, but the emotional effect might be enhanced if this character had more attention and development. It's also a bit handy that Bart and the Legion arrive just in time for Lor-Zod and M'comm to kidnap them and use them as a getaway vehicle. 
Orion and Rocket were partnered as a way to grow her character so she could connect with and understand her autistic kid, and I was completely correct. While I believe that's a great concept in principle, the implementation leaves a lot to be desired. "Beyond the Grip of the Gods!" properly laid the stage for this confrontation, while "Encounter Upon the Razor's Edge!" portrayed a more standalone narrative with a character that was new to Young Justice. Both of these episodes were fantastic for different reasons, but in last week's "Forbidden Secrets of Civilizations Past!" the seams began to emerge. This episode failed to make any progress on Rocket's character arc, which is a major issue given that it's the third of four episodes involving her and the previous two episodes didn't make any progress. "Odyssey of Death!" brings this conundrum to a head. M'comm utilizes his psychic abilities to show Rocket the bog situation once again. This time, however, she is urged to keep Orion imprisoned since he is a monster who will never be able to escape his status as Darkseid's son. These manipulations make Rocket conclude that Orion is a great success story for some reason. He has a severe illness, yet he tries to remain calm and aid people around him. All of this is true, and I like Orion as portrayed in Young Justice. However, this isn't how mind control has previously been shown in the program, and it makes no sense here. M'comm is inundating Rocket's head with the erroneous ideas she already has. Because of her preconceptions and his mental assaults, she suddenly realizes, "Oh, gosh, Orion was one of the good ones all along," and reconciles with him. This, I believe, was an attempt to push character development that might have happened naturally throughout the previous three episodes. But it comes off as manufactured and difficult to accept, and they kind of broke their own canon to do it. There's a lot going on in this arc, and I've liked a lot of it but learning to accept and understand Orion (and, by extension, her son, Amistad) was the larger focus. This arc revolves on her, and her relationship with Orion is crucial to the plot. Why do I feel robbed out of what might have been a fantastic story? Meanwhile, Razer only featured in one episode, yet his growth and decisions seemed genuine and well-considered. 
Tomar-ring Re's hunts for the female Forager in the aftermath of his sacrifice. Regrettably, there is another another component of the show that seems hurried and unexpected. Our Forager refers to her as a "probationary Green Lantern Forager," which helps them stand out even more. Make this her canonical name by signing this petition. However, this raises another issue. So far, the two Foragers' narrative has been completely romantic. That's OK, but we don't know enough about this Forager to know why she'd be an excellent Green Lantern. Is she courageous? Smart? Really skilled at coming up with new ways to use the ring's projection? Tomar-Re left large shoes to fill, and if this is going to be the big moment for the female Forager, some building or background would have been helpful. The happenings in the Phantom Zone, let alone Zatanna and her cronies, seem like an afterthought in face of all these events and individuals. What a waste. At the very end, there's a Batman tease; perhaps, the following arc achieves a better balance.
Plot – 3
8.5 for acting
3 progression
10 Production Design
1 – Character development
5.1
Bad
"Odyssey of Death!" is hasty and unsure of where to place its priorities. To pack in as much as possible, important character development, deaths, and story events are hurried.
"Young Justice Season 4 spoilers" is a review of the "Young Justice Season 4: Phantoms Episode 21, 'Odyssey of Death!'" which is the final episode of the season. Reference: young justice season 4 spoilers.
Related Tags
young justice season 4 hiatus
when is the second half of young justice season 4
young justice season 4 finale
young justice season 4 recap
young justice season 4 episode 11 review