Rockstar Games has confirmed they are working on a new Grand Theft Auto title, after speculation mounted following their recent tease. The company did not say if it will be the sixth game in the franchise or something entirely different however.
The "when is grand theft auto 6 coming out" is a question that has been circulating for a while. Rockstar Games finally confirmed that the game is still in active development and well underway.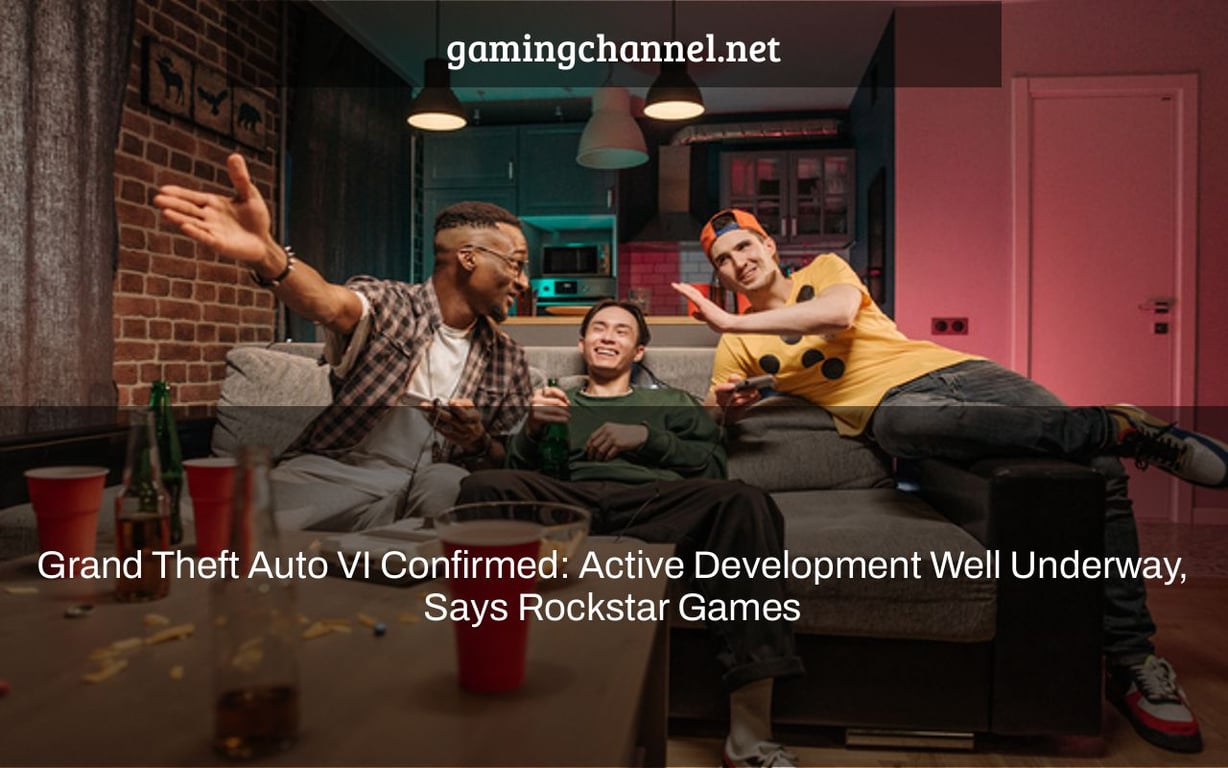 Image courtesy of Rockstar Games
Grand Theft Auto VI is currently under production, according to Rockstar Games. In a community post today, the developer announced the news, stating that production on the highly anticipated game was "well underway." While Rockstar has yet to reveal anything regarding GTA VI, earlier reports have stated that the game would be set in numerous locales, including Vice City, one of the franchise's most iconic places.
Update on the Grand Theft Auto Community (Rockstar Games)
We know many of you have been asking us about a new Grand Theft Auto game, given GTAV's remarkable endurance. Every new project we take on aims to go above and beyond what we've previously achieved, and we're happy to report that active work for the next installment in the Grand Theft Auto series is well underway. We'll have more information as soon as we get it, so stay tuned to the Rockstar Newswire for more information.
GTA V and GTA Online will be coming to next-generation consoles next month, with a slew of exciting graphics improvements, according to Rockstar Games. Players may also look forward to additional features such as a new tutorial and the chance to bypass the game's prologue.
For GTAV and GTA Online, a New Generation (Rockstar Games)
Grand Theft Auto V and Grand Theft Auto Online will be released on the PlayStation 5 and Xbox Series X|S platforms on March 15, delivering the blockbuster open-world experience to gamers on the most up-to-date hardware.
Grand Theft Auto V and GTA Online for PlayStation 5 and Xbox Series X|S include new graphics modes with up to 4K resolution, up to 60 frames per second, texture and draw distance upgrades, HDR options, and ray-tracing, as well as the latest console generation's technical advancements such as faster loading times, immersive 3D audio, platform-specific features such as advanced haptic feedback, and much more.
Players on PS4 and Xbox One who want to continue their adventure on the latest hardware will be able to migrate their GTAV Story Mode progress as well as their existing GTA Online characters and advancement to PS5 and Xbox Series X|S with a one-time migration at launch.
Plus, at launch, a new standalone edition of GTA Online for PlayStation 5 and Xbox Series X|S will be available for free to PlayStation 5 users for the first three months, making it simpler than ever for new players to explore everything GTA Online has to offer.
GTA Online has been improved (Rockstar Games)
GTA Online for PS5 and Xbox One also contains a number of enhancements, such as the opportunity to bypass the GTAV Story Mode prologue before joining Online, as well as a brand-new GTA Online Tutorial.
New GTA Online users will now have quick access to one of four illegal enterprises — Biker, Executive, Nightclub Owner, or Gunrunner — as well as a significant GTA$ windfall to enable them choose a property, high-end car, and the weapons they'll need to get their firm off the ground.
Returning players will have the opportunity to reset their characters at any time and use the Career Builder.
The new Hao's Special Works auto shop, located within the LS Car Meet, in GTA Online for PS5 and Xbox Series X|S, will allow players to upgrade select vehicles (5 new vehicles and 5 existing vehicles at launch) for elite driving performance that takes full advantage of the upgraded power of new console hardware.
Recent Developments
To reduce player dissatisfaction, Star Citizen has rolled back its road plan.
3 February 2022 3 February 2022
The International Space Station will be retired by crashing into the Pacific Ocean, according to NASA.
3 February 2022 3 February 2022
AMD has released the Radeon Software Adrenalin 22.2.1 driver, which includes support for Dying Light 2 and Ark: Survival Evolved.
3 February 2022 3 February 2022
Amazon is raising the price of Prime memberships in the United States.
3 February 2022 3 February 2022
The NVIDIA GeForce RTX 3090 Ti is expected to have a very limited release: "Card has the look and feel of a Porsche 918."
3 February 2022 3 February 2022
Sony is spending $1.2 billion to keep Bungie developers from leaving after the company was acquired.
3 February 2022 3 February 2022
The "Grand Theft Auto VI" is a game that has been confirmed to be in active development, with Rockstar Games stating that the project is well underway. Reference: what is rockstar working on 2021.
Frequently Asked Questions
Why is it taking Rockstar so long to make GTA 6?
How do you verify Rockstar Games on GTA 5?
A: Rockstar Games is a popular game company, but typically their games are not free. To verify that you have purchased the product in question, go to your Steam Library and select Open from under Store > Account Details on the left hand side of the page. You should see Proof Of Purchase for GTA 5 if its on there; otherwise download it again or purchase it digitally through different means (such as PSN).
How do I fix Rockstar game service?
A: The Rockstar game service is not working for me. What do I need to do?
Related Tags
when is gta 6 coming out on ps5
when is gta 6 coming out uk
gta 6 release date, download
when is, gta 6 coming out 2021
gta 6 trailer