Guild Wars 2 is a free to play MMORPG. The basic version of the game has no restrictions on it, but you will have limited access to content that players who pay for their accounts can enjoy. This article explores what content each account type gets access too and why they should care about this distinction in the first place
Guild Wars 2 is a free to play MMORPG game that has both paid and free accounts. The content you get access to depends on what type of account you have.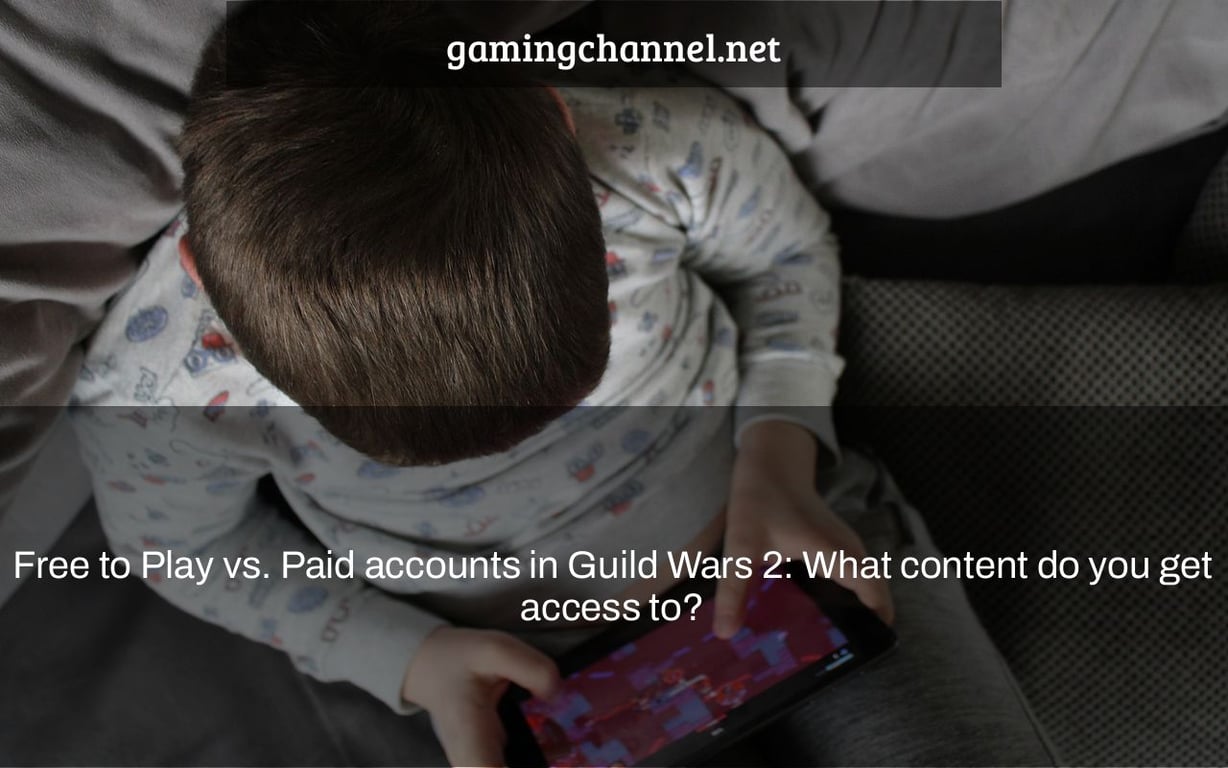 There are a lot of MMORPGs out there right now, and many of the excellent ones are either subscription-based or require a large one-time payment. With the basic game and current expansions requiring a one-time purchase of $29, Guild Wars 2 may be a little taxing for the player who is unsure about the game's quality. Fortunately, Guild Wars 2 offers a Free to Play mode, and this tutorial will explain the limits and constraints it imposes on the gamer.
Classes
All basic or vanilla classes are free and unlocked in the Free to Play game. There are only two character slots available, and there are eight classes to choose from:
Elementalist
Engineer
Guardian
Mesmer
Necromancer
Ranger
Thief
Warrior
Additionally, each of your characters has just three Bag Slots, which means that your inventory capacity is quite restricted.
Regions and Caps at the Regional Level
ArenaNet provided this image.
Free to Play accounts have full access to Central Tyria, which is also available in the standard game. However, unlike full-account players, you are restricted to staying in the beginning region until you reach level 10, and the city of Lion's Arch will be accessible until once you reach level 35.
Communicating
You'll be restricted to sending emails solely to persons on your friend list. You won't be able to give or receive gold or stuff, but you will be able to receive them.
You'll also be restricted to whispers between friends and others who share your map. You'll have to wait 30 seconds between messages if that individual isn't a friend. You can only read map chat; you can't send messages, and Squad chat is available until you reach level 30. After obtaining PvP level 20, you may only communicate in the lobby, and you won't be allowed to speak in anything other than Team Chat during PvP games.
Raids, Guild Halls, and PvP
Photographed by
While you won't be able to use the other expansion features like gliding or mounts, you will be able to visit the Guild Halls of HOT. However, you will be unable to improve the hall. If you have SMS or app authentication, you may withdraw from the Guild Bank. You can only enter Custom and Unranked Arenas in PvP until you reach PvP Rank 20. WvW (World vs. World) is available across your account if any character reaches level 60, whereas the LFG tool is accessible by individual characters reaching level 30.
On a Free to Play account, raids are not available.
Daily Logins, a Gem Store, and Other Extras
Photographed by
The Daily Login Bonus, which delivers a range of free things throughout the month, is not available to free to play accounts. You may shop for cosmetics in the Gem Store, but you won't be able to get skins for expansion-exclusive gliders and mounts. You may also swap Gems for cash, but gold cannot be used to purchase Gems. Also, for the first 72 hours after your account is created, you will be unable to buy any gems.
You will be able to buy and sell products from a limited list at the Trading Post. You can't move your Worlds, so once you've chosen one, you'll be trapped in that area for any WvW activities and won't be able to play with your pals. You won't be allowed to post on the forums either.
Watch This Video-
The "guild wars 2 free vs paid reddit" is a question that many people have asked. The game offers two different types of accounts, the free account and the paid account. The difference between these two accounts are what content you get access to.
Frequently Asked Questions
Is Guild Wars 2 Good for f2p?
A: Guild Wars 2 is a good example of how to make an MMO F2P. The unique profession system and the vast amount of content means you will be able to easily get far in this game without having to spend money on it.
What do you get with free Guild Wars 2?
A: The game is free to play and features a variety of activities such as PvE, PvP, WvW, RP. You will also get the ability to make your own guilds that you can customize with various colors and insignia
Are Guild Wars 2 expansions free?
A: All Guild Wars 2 expansions are free.
Related Tags
guild wars 2 free to play restrictions
guild wars 2 full account price
core guild wars 2 account
guild wars 2 subscription
guild wars 2 free expansion code